| | |
| --- | --- |
| M13 - The Hercules Cluster | (Home) |
This has always been my favorite visual observing object. This summer object is easy to find and very bright. This globular cluster, found in the constellation Hercules, has a magnitude of 5.9 and a size of 16.6 arc-minutes. M13 was discovered by Edmond Halley in 1714. It is 24,000 light-years away and contains 500,000 to 1,000,000 stars.
The shot above is an RGB composite from three 5 minute red frames, two five minute green frames, and five 5 minute blue frames for a total of 50 minutes. The result was color balanced to 1.13 : 1.00 : 2.07 which takes extinction into account. 12" LX200, AO7, ST-8E @ f/6.3. Taken August 16, 2001 at the Oregon Star Party.

In this color shot I see some blue stars for the first time. I think it is these that make the visual experience so nice.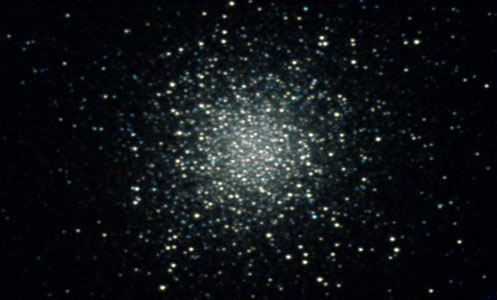 This image is an RGB composite with 3 two minute reds, 3 two minute greens, and 5 two minute blues. The result was color balanced and then run through the "digital development" filter (which seems to work great for globulars). Taken Aug 13, 1999 at the Table Mountain Star Party with the Meade 416XT and 12" LX200 (forgot to record focal ratio).

This version taken July 24, 1997.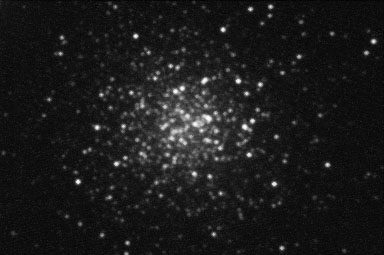 A 15 second binned exposure taken with the 416 at f/10 in my Corvallis front yard. (This is my first successful CCD image).