The Catseye is a planetary nebula found in Draco (the Dragon). It shines at magnitude 9.0, and is 5.8' in size.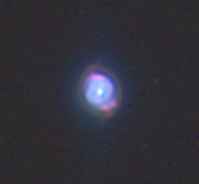 This shot was taken at f/6.3 with the 12" LX200, AO7, and ST-8E CCD from my home dome in Monmouth Oregon on August 28, 2002.
A little unsharp mask was applied to bring up the detail.

| | | | |
| --- | --- | --- | --- |
| Filter | Exposure | Count | Binning |
| Red | 15 min | 3 x 5 min | 2x2 |
| Green | 15 min | 3 x 5 min | 2x2 |
| Blue | 20 min | 4 x 5 min | 2x2 |